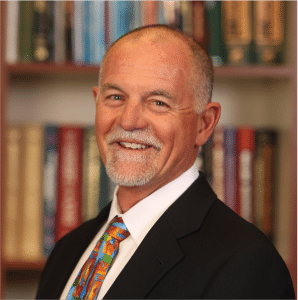 Flagstaff, AZ (December 20, 2021) – After 33 years as a physician, 29 serving the Flagstaff community and 25 years as President of Northern Arizona Orthopaedics, Dr. Timothy Bonatus has announced he will retire at the end of 2021.  Dr. Bonatus came to Flagstaff in 1993, having served in the first Gulf War and completing a fellowship in Orthopaedic Trauma and Fracture Care. He joined Northern Arizona Orthopaedics in 1996 and cared for patients in Flagstaff and other Northern AZ regional clinics. He also served on the State Trauma Advisory Board to found the Trauma Care Network for the state of Arizona and was key in the development of Flagstaff Medical Center as a Regional Trauma and Tertiary Care Center.
Dr. Bonatus specialized in hip and knee replacement procedures and was an early pioneer of robotic surgery in the Flagstaff area. "I have performed thousands of joint replacement procedures over my career, and I never grew tired of seeing the impact it made on my patients' lives," said Dr. Bonatus. "Each time a patient came back into my office and told me that they were able to be active again, it reminded me of why I became an orthopedic surgeon."
Northern Arizona Orthopaedics continues to be a leader in value-based musculoskeletal care with eight sub-specialized surgeons and locations throughout Flagstaff, Sedona and Lakeside.  Dr. Bourck Cashmore, supported by two physician assistants and a strong Arthritis and Adult Reconstruction Care team, will continue to provide joint replacement services in Northern Arizona.  "When I came to Flagstaff almost 30 years ago, I was one of only eight orthopedic surgeons in Flagstaff," said Dr. Bonatus. "It's incredible to see how this practice has grown and how many lives in the community we have impacted."
"I have had the pleasure of knowing Dr. Bonatus, both personally and professionally, over the last 10 years and he has always set standards for excellent patient care and community service," said Dr. Jason Scalise, Vice Chairman for Strategy and Growth at HOPCo (Healthcare Outcomes Performance Company). "In addition to being a gifted surgeon, he is also a reliable frontrunner, both in his community and for the practice he helped lead.  We wish him health and happiness as he embarks on this new and much-deserved chapter in his life."
About Northern Arizona Orthopaedics
Northern Arizona Orthopaedics is one of the largest orthopedic practices in the region, with clinic locations in Flagstaff, Prescott Valley and the White Mountains/Lakeside. To treat all of your musculoskeletal care needs, we have surgeons specializing in multiple sub-specialties of bone and joint care, including spine.  As part of the Northern Arizona community for over 40 years, we have built a reputation for quality care and Experience You Can Trust.
###
For media inquiries, please contact:
Daniel Goldberg
Sr. Director of Marketing, Branding and Communications
Healthcare Outcomes Performance Company (HOPCo)
623.241.8649
Daniel.Goldberg@hopco.com